Our flagship PrinterFace product is the most comprehensive and powerful web-to-print management system available. It drives client interaction, provides powerful ordering tools, real-time pricing, PDF proofing, workflow and brand management, template creation and supply chain management. It's the ultimate tool for print management.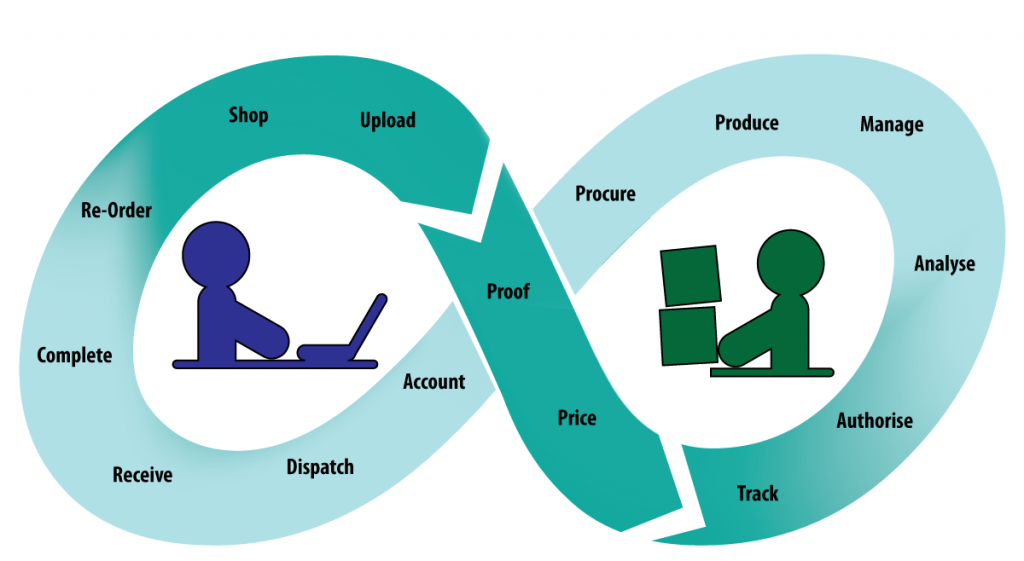 Design philosophies
PrinterFace has been developed with several key design philosophies in mind. They key driving principle is to make the complex seem easy, our mantra is "If you need a manual to use it, you didn't build it very well" (and that's not just because we don't like writing manuals!). Several key philosophies drive our development team's decision making:
Get the order – If your web-to-print system isn't intuitive and desirable to print buyers, if it's not turning shoppers in to buyers, if you're not getting the orders; then you're not printing anything. Your print management system needs to close the deal – PrinterFace does that.
If you can click it, we can print it – Your process, your capabilities your print-room represented online. Your print buyers need the confidence to know that you can produce the orders that they send you. If they know
Integrate integrate integrate – Don't re-invent the wheel, our software is incredibly powerful but it doesn't do everything. By integrating with finance systems, email, databases, authentication/password systems; we can focus on what we do best, and you don't need to administer the same information more than once.
Make the simple invisible, make the complex simple – The easy things should be seamless, intuitive and just happen naturally. Where PrinterFace really makes a difference is in the complex (how do you specific folding options? how do you run your guillotines? how do you price large format print?).
Speak your customer's language – Call a spade a spade, your client's aren't printers or print managers, nor should they be! Your web to print system needs to work for corporate clients, academic users, government officials, office administrators, students, everyone. PrinterFace has exceptionally high uptake by end-users and stunning end-user feedback. We'll make you look good in front of your clients!
What does PrinterFace Do?
Catalogue ordering
Easy to understand shopping cart and product ordering from course notes through to consumables – your own shop online.
Template ordering
High accuracy, programmed templates for customised stationery, business cards and more.
Ad-hoc/Document upload
Powerful document upload and job ticket creation.
Simplified ordering
Posters, brochures, CD & DVD production
Workflow management
From buyer, through approvals, production, dispatch to reporting, administration and re-orders.
Supply-chain management
Print managers can't do everything, so PrinterFace works with your suppliers, to organise quotes and purchase orders
Reporting and finance integration
Know your business, extract data, run-reports, feed invoices directly to your finance systems.